Our team of passionate educators believe that our engagement and relationship with nature is paramount to our wellbeing and to the wellbeing of our ocean-planet home.
Education is the key to unlocking a continued understanding of the many and complex issues that exist. We want to inspire our youth to consider their individual footprints and become empowered to take responsibility for protecting our oceans, beaches, rock pools, creeks, rivers, and our unique country, now and into the future.
Experience measurable syllabus outcome-based presentations and field studies in the unique and diverse ecosystems of Hastings Point. We cater to your needs and offer the opportunity to build your own camp program across a range of nature, science based and team building sessions and activities.
Let us inspire your students by booking a private visit to the Marine Discovery Centre, for your school.
Welcome to North Star Holiday Resort, home to Marine Discovery Centre Hastings Point, one of Australia's largest, privately funded museums. Our award-winning haven located on the pristine Tweed Coast, approximately 90 minutes from Brisbane CBD and 50 minutes for the heart of Surfers Paradise.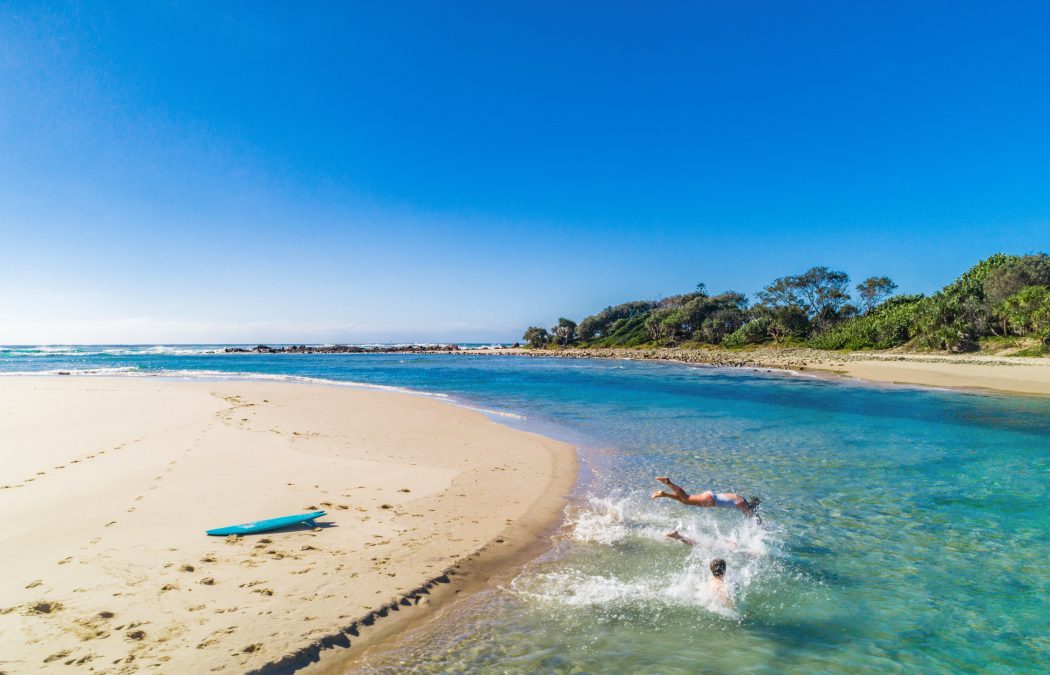 Hastings Point
Hastings Point is an ideal living classroom and mindfulness setting due to the presence of four easily accessible coastal ecosystems: an unsurpassed intertidal rock platform, a healthy Mangrove wetland and tidal estuary as well as stretches of beaches and sand dune forests which extend back into a Wallum Heathland and freshwater Paperbark Tea Tree Wetlands.
Marine Discovery Centre 
The recently refurbished Centre is a showcase of state-of-the-art light and sound technology, fitted with interactive digital terminals and world-class marine and coastal science displays. This space is ideal for presentations, education sessions complimented by using our microscopes or simply a self-guided exploration of our zones
Accommodation
North Star's comfortable dorm-style accommodation has been designed specifically for school groups. Dorms are air-conditioned, have two bathrooms, two separate showers and sleep up to 10 people. Teachers' accommodation is conveniently located opposite the dorms in the Jubilee Lodges. These two-bedroom cabins are air-conditioned, have a fully equipped kitchen and outdoor patio.
Catering
The fantastic team at North Star's onsite Ripples Licensed Café have years of experience in catering for large school groups. A range of meal options is available for breakfast, lunch and dinner, with menus designed to suit all ages. They can also cater for special dietary requirements if advised at the time of booking.
BUILD YOUR OWN EXPERIENCE
Want to know more? Build your ultimate camp with additional sessions at the Marine Discovery Centre, field studies, recreational and team-building exercises. The choice is yours! Please fill out the below and add the activities you feel will best suit your group. Once submitted our friendly group coordinator will be in touch with a detailed quote. If you have something specific in mind that isn't noted below, please ask!
Base Package
Outdoor Education  
Envrio Care   
High Tide   
 Low Tide 
Duration
Team Building
Wellbeing
Ben Wittkopp - Carmel College
 " Our College has been extremely fortunate to have shared in Rhett's incredible biological knowledge of both the local ecology surrounding Hasting's Point and the interactions amongst globally connected ecosystems. Rhett not only has a unique knowledge and skill set, but exhibits highly effective communication and social interaction with school staff and students. With the recent change in the QLD Senior Syllabus, Rhett was only too happy to collaboratively work with us to modify and redesign our experiences to meet the mandatory pracs, giving a substantial amount of his time and wisdom to assist us in this process. After 10 years of Biology camps led by Rhett, I can honestly say that each and every student (and staff member) has left in awe and admiration of Rhett Brambleby, and we look forward to many more years working together. "
Hamish Inksetter - Lindisfarne
" For the past 15 years, I have been arranging excursions to Hastings Point for students from Year 7 to Year 11. Originally, we visited the old caravans where Ted Brambleby had set up his Marine Biology display. With time, this evolved into the new facility at North Star Holiday Park and a transfer of responsibility from Ted to Rhett. These excursions to Hastings Point became something of a rite of passage for our students and an occasion that I looked forward to each year. The knowledge and passion that both Ted and Rhett communicate through their teaching is a vital component of our student's science education. The "Hands on" approach to ecology and the "Warts and all" explanation of the state of our oceans is an experience that would be hard to replicate anywhere else. In an academic world more and more constructed around virtual teaching aids, the reality of Rhett's presentations is refreshing.
I would whole-heartedly recommend Rhett Brambleby and his crew to anyone considering an excursion in connection to any of the junior ecology topics or senior studies involved in the environment. You will not be disappointed. "